Regular Workshops & Classes

Introduction to Reverse Glass Painting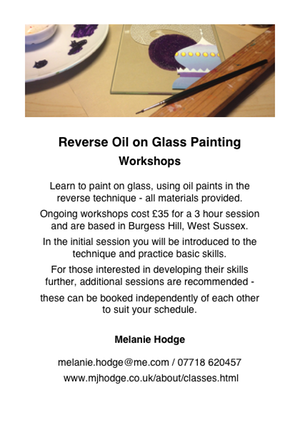 A three hour workshop introducing you to the reverse glass painting technique, including: 
a brief history of the Croatian Naive tradition, 
a chance to study works by a number of contemporary artists in this technique and 
the opportunity to try your hand at reverse glass painting with all materials supplied. 
£35 per session includes materials and refreshments.
Workshops are based in Burgess Hill, West Sussex and are on-going so you can join anytime.
The first two dates for Autumn 2016 are:
Friday 23 September, 9.30am - 12.30pm
Friday 14 October, 9.30am - 12.30pm
with more to follow. 
Multiple sessions are recommended for those wanting to develop their skills across a range of techniques, these may be booked independently of each other to suit your schedule. 
Contact me via the Contact Page to book your place now.
***
Presentations & Talks
A History of the Croatian Naive 
A 45 minute PowerPoint presentation introducing the major artists of the Croatian Naive tradition from its birth as a form of artist-activism in the 1930s, through the heyday of the 1970-80s and finishing with contemporary artists still working today. Many of these artists are not seen outside of Croatian museums and my connections with several contemporary artists makes this a unique presentation with a very personal touch. 
Suitable for secondary student art classes and local arts groups interested in learning about the history, development and tradition of a 20th century Naive art movement.  
The Croatian Naive and Me 
A 45 minute PowerPoint presentation focusing on the very real and direct influence the Croatian Naive tradition has had on the development of my own artwork, from process and technique to the contemporary mentors of the tradition who continue to inspire me and influence my creative practices at every level. 
Presented to the British Croatian Society in 2015, which led directly to an invitation to exhibit as part of the Creative Croatia events in April 2015. 
Art as Respite
Alongside my creative practice I founded Creative Carers in 2014 to bring creative respite to others like me struggling to balance their caring roles with their creative interests. As part of my work with Creative Carers I offer art respite activities for a range of abilities and I am happy to talk about the impact and influences my caring roles have on my creative practice and the art I make.
Please visit my Creative Carers website for more details.
I do not currently charge a speakers fee for any of my talks. Where travel is involved then my travel costs may need to be reimbursed. For Creative Carer art activities a materials fee may apply. 
***
Croatian Connections
I can also help to arrange itineraries and introductions for those travelling to Croatia and who would like to learn more about the Naive tradition, make studio visits and/or purchase work direct from the artists while in the region. 
Please contact me via the Contact Page for more details.
I do not charge for any introductions and do not get any commission from artists on any sales. I do this because the artists are friends, I admire their work and I think they should be better known than they are.