I have donated one of my works, "Cottage by the Sea - 1" to the Big Heart Auction 2016. 
The online eBay auction was open from 1-10 July 2016
Opening at 9 pm on 1 July
All money raised during the online auction was split between Chestnut Tree House (80%) and Brighton Dome & Brighton Festival's Umbrella Club (20%). 
Chestnut Tree House does vital work caring for children with life-limiting illnesses and supporting their families across Sussex while the Umbrella Club keeps them all smiling with live art experiences. More information about Chestnut Tree House can be found here.
Please click here for auction details of my donated work. 
The auction itself was held online, via eBay, and raised a total of £38,500 - equivalent to running 5 days of respite services and care at Chestnut Tree House and in the homes of the children they support.
In the run up to the auction going live, a series of pop-up exhibitions took place across Sussex. As I'm always happy to sit in the sun by the seaside you can see a rare portrait of me below, taken by the friendly Graham Franks of grahamfrankspics.co.uk at the Worthing Dome exhibition.
The main exhibition, featuring ALL donated works, was held at the Brighton Dome from 1-5 July.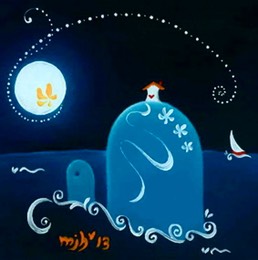 Left: Me at the Big Heart Auction Exhibition in Worthing May 2016, Photo by Graham Franks  
Right: My donation to the 2016 Big Heart Charity Auction, "Cottage by the Sea - 1"
While I am fortunate enough not to have a child with a life threatening illness I do know how fragile and temporary this state might be, and I can promise you that these charities are doing hugely important work as they support families trying to meet the practical needs of their children while at the same time keeping the laughter bubbling. For this reason, I really do hope that you will look out for next year's Big Heart Auction and join in the fun and excitement of bidding to support the work of these fabulous charities! 
This page was updated 23 July 2016