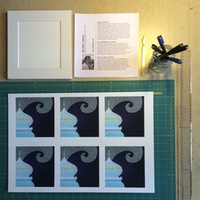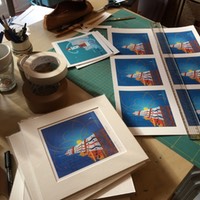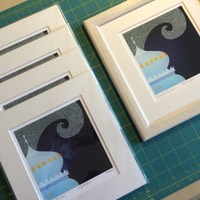 As I was preparing my prints for the Brighton Artists Open Houses this month, promote them via social media and continue to talk about them to visitors to The Magic Lamp house I have had lots of really lovely feedback and no little curiousity about how I get my prints "looking so good." 
I'd like to say it's magic, but the truth is that it takes time, patience and money - and the magic is only in the final result.
As such, I'm not terribly precious about the secret of my success and as you have enquired, I'm happy to share the process. 
First comes THE ARTWORK.
It is time consuming, meticulous and demanding work - but I love my media so I don't worry about all of that and focus instead on the peace of mind such absorbing concentration brings. 
Second comes THE PHOTOGRAPHY.
This can not be underestimated. I have a very good professional photographer I use, who regularly complains about the difficulty of photographing works on glass and yet he invariably rises to the challenge with spectacular success. 
Next comes THE TECH.
All of my images are digitally photographed and instantly brought up on screen in Photoshop. Getting a pure image unaided is impossible as there will always be a speck of dust or a line of refraction that needs tweaking. I am not embarrassed to retouch the images, because the result is a Fine Art Print worthy of the name and that truly does justice to the original artwork.
For this you need A GOOD EYE.
Each digital image is checked on screen and then checked again for quality and colour once printed. This can take half a dozen trial prints to get right and I have been called 'overly particular' more than once. But it pays off. I am proud of my prints and happy to put my name to them. 
And for those three things you need MONEY.
Tech, equipment, checking and double checking all costs me money. Plus paying that little bit extra for the best archival paper, using only archival inks and, for the larger prints, going for full gloss as it brings out the richness, depth and vibrancy of the original colours to best effect. 
Then, when the prints are ready it takes THE FINISHING TOUCH.
I use only archival quality mattes and backing boards to protect and display my prints and all mattes are custom cut to show off the artwork at its best. Before packaging them up though, I sign and number each print by hand with care, add in an Artist/Print information sheet which doubles as a Certificate of Authenticity and, for larger prints, include a customised label for each print which can be put onto the back of the framed work. 
And all of this takes LOVE.
It is only then, when every piece has been put into its individual cellophane sleeve that carefully fold over the plastic, line up the edges carefully and seal it with love.
Fine Art Prints may seem like a manufactured and mass-produced thing in many shops, but I promise you that I have touched each and every print, at each and every step of the process, often many times over. I love what I do and the work that I make, and if you like it too and are willing to invest in me - then you definitely deserve the very best artworks that I can offer.
* * *
For more about the prints I have available for sale please visit my online shop. 
Orders can be placed by email or phone and I am happy to advise on framing options when you buy. 
Payments can be made via bank transfer or Paypal, with the latter option allowing payment via credit card.
Original artwork is also available for sale and I will accept payment in installments.