It has seriously been a crazy two months - 
and this is just a quick summary to share the journey with you so far, as it ain't over yet.
In February I confirmed my place in The Magic Lamp (Facebook / Website) for the annual Brighton Artists Open Houses. It was hugely exciting as participating in one of the largest Artists Open Houses in the UK has been a slow-burn project I finally felt ready for. 
In March I took paintings to be framed, arranged for new photographs to be taken of my Brighton Dome work (below) and ordered my Fine Art Prints, custom cut mattes and related packaging supplies. I have spent April collecting artwork, supervising the printing and putting them all together for display. 
While this admin was going on I was also nursing my daughter who had suffered a concussion after a fall and writing the background info on my son's EHCP plan (for those not in the know, that means I was making the case for his special learning needs and social support as he becomes a teenager). Both of these parenting roles have been extremely challenging and have taken up a huge amount of my creative time and emotional energies, as a result I have not lifted a paint brush in nearly two months as I type this.  
That said, having The Magic Lamp to look forward to has kept me engaged with my art in a new and different way and kept me motivated during some of those harder days. 
So, when I say that I am so excited to finally be here I mean it with all of my heart because it means I've done it! Nursed the children, fought their side, taken care of myself AND coordinated my orders, photography and print runs so that I am ready for Saturday morning when The Magic Lamp opens at 11 am (though I'll be taking the train down so won't arrive until 12.30 ;). By which time, I hope to see you already there! 
I've even had time to bake some American style brownies to share with early bird arrivals! 
Wonder Woman? 
Yeah. You can call me that ;)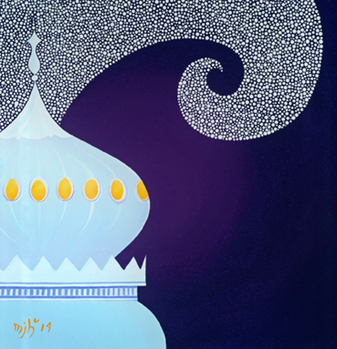 "Brighton Pavilion" is the newest in my Sussex Series.
For details on ordering a copy of this as a Fine Art Print, please click here.
For price and availability of the original artwork please email me.
More info about this event can also be found via links in my Events Page