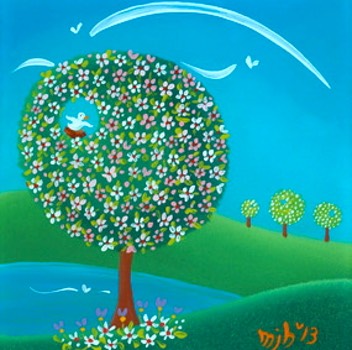 Price: £200

Plus packaging and shipping costs
Description: 
Original Reverse Oil Painting on Glass - 10 cm x 10 cm
Featuring a round flowered tree with a nesting bird in the foreground and three smaller trees in the distance under a turquoise sky.
Framed Size: 
24.2 x 24.2 cm
Framing Style: 
Double framed in matte white wooden frames with approx 5 cm gap separation between the inner and outer frames. Photo available on request.
To Buy:
Please contact me via the Contact Page for a free shipping quote and to arrange payment. Payment is accepted via bank transfer, credit card and PayPal.