From September 2016
New Studio Workshops * Reverse Glass Painting 
Click on the link above to go directly to the Classes page of this website.
The first workshop of the autumn will be on 23 September 
with a second scheduled for 14 October (both Fridays) and more to follow.
Places are limited so reserve your place now!
Only £35 for three-hour introduction to the technique and to try yourself.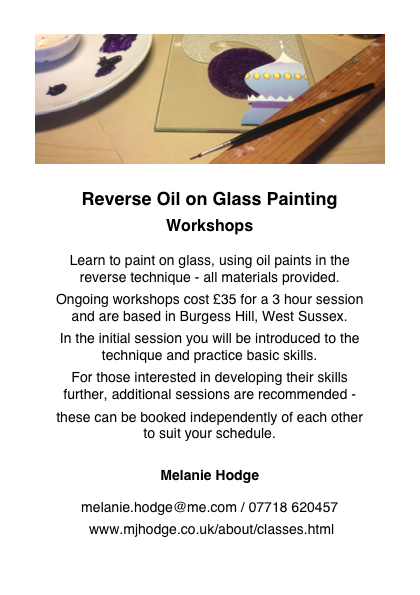 ***

Sunday, 27 November 2016
Christmas Gift Fair 
10 am - 5 pm
Exeter Street Hall, Seven Dials Area of Brighton
More details to follow. 
***

Recent Events:
Big Heart Charity Auction * My Donation, July 2016

Burgess Hill Artists Summer Exhibition and Drawing Workshop, June 2016
Amberley Museum Traditional Crafts Fair, May 2016
Brighton Artists Open Houses, May 2016
Twitter * Instagram * Facebook * Pinterest * Email Me * Sign up to my Newsletter