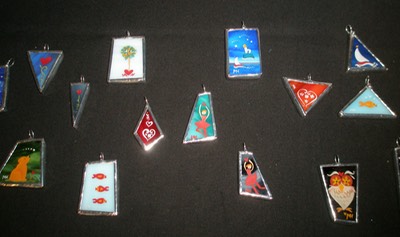 Artwork to Wear
I have a passion for small details - but paintings in miniature are easily lost when hung on a wall. Also, I love the idea of paintings that are small enough to wear next to your heart, yet expressive enough to make each piece truly "one of a kind." 
From the intersection of these two ideas "Painted Jewels" were born:  intricately detailed paintwork, artisan crafted into simple yet striking pieces that can travel anywhere you want to go. 
Each "Painted Jewel" is a miniature masterpiece painted in the reverse glass technique, signed by the artist and carefully matched to a piece of art glass for maximum effect. The two pieces of glass are then bonded with copper tape in the Tiffany (stained glass) tradition and finished in a lead-free, jewellery quality solder for a permanently beautiful, hard wearing piece of art that can be worn on a ribbon or silver chain, or incorporated into other jewellery projects. 
"Painted Jewels" are individually unique enough to match any occasion yet tough enough to be worn every day. Do not be fooled by their diminutive size - these are pieces that get noticed! 
The next collection is currently in production, please contact me for details.