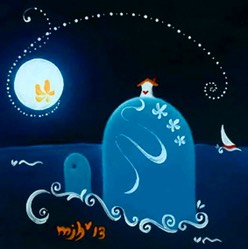 I support the work of Chestnut Tree House. 
To show my support for the work they do and the families and children they support, I have donated one of my original paintings, THIS particular original painting, to the Big Heart Auction 2016. It even has a little heart to match ;)
Please click here for auction details of this work. 
All proceeds from the sale of artworks will support Chestnut Tree House's vital work in caring for children with life-shortening illnesses across Sussex and Brighton Dome & Brighton Festival's community work such as the Umbrella Club, which provides live art experiences for these children. Proceeds will be split, with 80% going to Chestnut Tree House and 20% to Brighton Dome. I hope you will join in the fun and excitement supporting this excellent cause!
To view all donated works and find out what you need to do to participate in the auction please click here.
The online eBay auction will be open from 1-10 July 2016.