Mark your diaries now!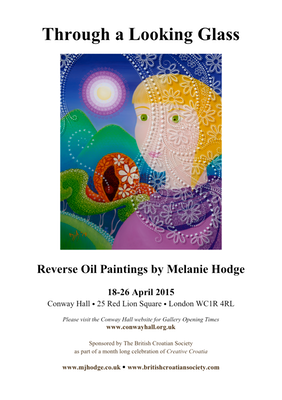 THROUGH A LOOKING GLASS
Conway Hall, Red Lion Square, London
19 - 24 April 2015
Private View 
18 April 2015 from 6-7.30 pm, no RSVP required.

Introduced to the Croatian Naive tradition of reverse oil painting on glass by today's Naive Masters, Melanie Hodge has taken this unique and little-known technique and made it completely her own: transforming plain, ordinary window glass into looking glasses that reflect a dreaming world. 
Characterised by a bright and bold palette, sweeping spirals of stars, richly detailed landscapes of wonder and flowers out of season, this is an exhibition which will showcase how an almost forgotten tradition can inspire new directions, explore the process of painting in the reverse technique and give a glimpse into an imagination of unique artistic vision - as seen through a looking glass. 
This is Melanie's first exhibition in London and her second solo exhibition to exclusively feature her works on glass. 
This exhibition forms part of a month of cultural activities organised by the The British Croatian Society  with live poetry and theatre events, talks and presentations, all under the banner of Creative Croatia. 
Find out more about the reverse glass painting technique and the Croatian Naive by clicking here.
Keep up with breaking news and sneak a peek at works in progress by following @mjhodgeart on Twitter. 
And to explore the literature of the region today check out Istros Books, whose help in organising this exhibition has been invaluable and who will also be running a number of literary events throughout April!
Recommended blog entries for new visitors:
Grounded in the Croatian Naive
Start following me today:
Instagram melanie_hodge
Twitter @mjhodgeart
Facebook MJHodge - Art and Illustration